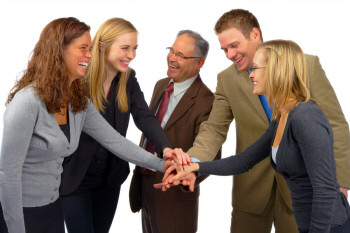 What Does Membership in the AGA Offer?
Our chapter has about 300 members from Federal, State and Local governments, private companies and academia. Each week, you receive an electronic newsletter, called TOPICS that is published by the AGA National Office. Quarterly, you receive the Journal of Government Financial Management, a magazine designed especially for those in government. You also receive our award winning chapter bi-monthly e-newsletter Capital Ideas. The chapter also offers almost 100 continuing professional education credits annually through its quality, cost effective training that provides huge discounts to members that well exceed the cost of membership. Further, the chapter offers outstanding leadership and networking opportunities, as well as the chance to particiapte in our award winning community service efforts as a way of giving something back to the community. See our list below of 10 Great Reasons to Join AGA!


What Are the Membership Types?
Full Member: Career professionals performing financial management activities in an operational, administrative and/or supervisory capacity: $90/year - government; $150/year - private sector.
Early Career Member: This class of membership is available to government employees with less than three years experience: $45/year
Student Member: This class of membership is available to full-time college or university students: $30/year
Retired: Call the AGA Customer Satisfaction Center at 800-AGA-7211 to find out about our retired membership category.


Can My Employer Pay for My Membership in AGA?
Yes! According to the State Comptroller's Guide to Financial Operations, procedures exist that allow your agency to pay or reimburse you for certain memberships in professional organizations. To be eligible for payment, the membership must be directly related to your professional duties and the activities of the agency, and must provide benefits to the agency. Read the details at OSC's website - Guide to Financial Operations, Chapter XIII Employee Expense Reimbursement, 8. Non-Travel Employee Expense Reimbursement, Professional Dues and Publication.


How Do I Join or Renew?
You can complete the membership application and send it to the AGA National Office (address is on the application). There are no local chapter dues. You can also complete an on-line application or renew on-line by clicking here (which will bring you to AGA National's Members Only site). You will need your member ID and password.

Does the AGA Have a Government Group Membership Program?
The AGA has established a government group membership program called Advantage. Government agencies with five or more members can become an Advantage member in which the employer pays your dues annually. The employer receives numerous benefits from joining, including the opportunity to send up to the same number of nonmembers to AGA and chapter events at the member cost as the number in the group membership. Thus, the savings can easily exceed the cost of subsidizing staffs' membership. A more complete description of the benefits of the Advantage program can be found at our AGA National site.

If you have any questions about the Advantage program or would like to schedule a meeting to discuss the benefits of group membership, contact Ray Harris though email or our contact us page.


Does the Chapter Have a Group Membership Program for Private Firms?
The Chapter has established a group membership program for profit and not-for-profit firms that offers the same benefits as the government group membership program. The firm may choose to pay the dues of five or more staff to establish the group or they can have the individual staff member pay the dues. To enroll, the firm's membership coordinator will need to contact our Chapter's Membership Vice President - Ray Harris at 518-280-6317.

What If I Have Questions?
Donít know if AGA is right for you? Give Ray Harris a call at 518-280-6317 or email Ray at email or by our contact us page.



---



Top 10 Reasons to Join!

10. Keep up with the Latest Developments
AGA uses its base as the collective voice for government financial managers to help shape legislation in close consultation with government entities. AGA works to strengthen government accounting and reporting systems and to enhance the productivity of the financial management process.

9. Save Money
It's true--your AGA membership can help you save money. Your membership in AGA entitles you to significant savings on registration fees for conferences, workshops and courses, as well as AGA periodicals and training materials. So you can keep current--without breaking the bank.

8. Stop Reinventing the Wheel
Learn from your colleagues who have dealt with the same issue or problem you're facing. The more than 18,000 AGA members come from every level of government financial management. The collective wisdom and experience of these colleagues from around the country gives you a solid base of real-world knowledge and experience. As an AGA member, you can draw from this reservoir of experience!

7. Make New Friends and Important Professional Contacts
Your local AGA Chapter puts you in contact with other financial management professionals in the area. You'll get the chance to participate in social events, business meetings and educational seminars with other professionals who understand your concerns. Your AGA membership means you're part of a tremendous nationwide network.

6. Be Represented by an Industry Leader
AGA represents every level of government fiscal management through its network of elected chapter officers, Regional Vice Presidents and national executives who maintain contact with senior officials and other decision-makers whose actions affect government financial managers. AGA serves as the singular voice for its thousands of members and other professionals involved in all levels of government financial management.

5. Build Your Leadership Skills
And your professional reputation. How? Active participation in your local AGA Chapter and AGA National Committees can lead to important volunteer leadership positions within AGA. NOW is the time to get your career on the fast track!

4. Sharpen Your Professional Skills
In today's busy society, everyone knows it is harder than ever to keep up with the latest financial management advances...know who's doing what...and how. One way you can have regular access to the latest information--and build your professional network at the same time--is by attending AGA seminars, conferences, and local chapter educational activities. It is the best opportunity you have to keep on keeping up...and as a member, you're assured of hearing about all the conferences and meetings well in advance.

3. Save Money
It is not a mistake: we put this in twice because we wanted to make sure you noticed this great benefit. In addition to the great savings on a range of exciting professional development opportunities, your AGA membership entitles you to special savings on a range of personal services. An important AGA membership advantage is that eligible members may request coverage in the highly competitive AGA Term Life Insurance Program, Long Term Disability Insurance or both. And an Exclusive AGA MasterCard can be yours. The program offers members premium Gold and Silver MasterCard's with high credit lines and valuable discounts for today's busy professional. Plus, receive member discount rates and specials on rental cars in AGA's Member program through Alamo . Click here to see more details on these great cost saving benefits.

2. Earn the Recognition You Deserve

You've put a lot of hard work into getting where you are today. Enhance your credentials as a government financial manager by choosing to have your unique skills and knowledge recognized through professional certification in AGA's Certified Government Financial Manager (CGFM) designation. The CGFM designation offers considerable benefits to you personally and the government financial management community you serve.

1. Get a Head Start on Your Career
Make valuable contacts. Meet your peers. Keep up your education. Build a professional network. Learn new skills. Learn from the leaders. Don't waste another valuable minute. Now is the time to join the Association of Government Accountants! But do it soon, so you won't miss out on any of these great benefits!



Last Updated by: LBrown on 8/21/2014 12:16:40 PM